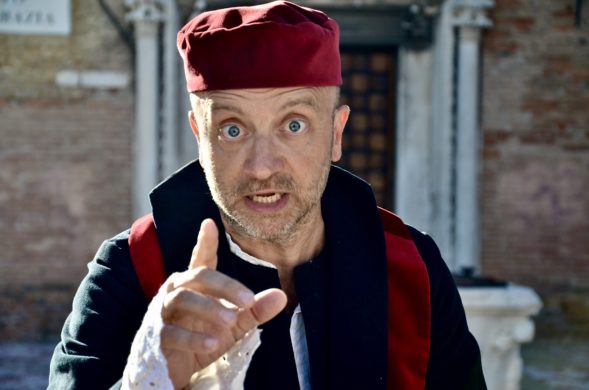 Walking with Shylock by "The Merchant of Venice" di W. Shakespeare. Next tour: August 28th
INFO:
Ornella Naccari
info@on-view.com
tel.: +39 338 6144512
Walking with Shylock by "The Merchant of Venice" di W. Shakespeare. Next tour: August 28th
What would happen if you met Skylock in Venice and walked with him from Rialto to the Venetian Ancient Ghetto? … What if he performed the most famous scenes taken from "The Merchant of Venice" by William Shakespeare?
"Walking with Shylock" is a tour organized by ON VIEW Experiences & Weddings and follows the 2016 Spakespeare in Veneto project by Ornella Naccari and Solimano Pontarollo of Casa Shakespeare , Verona, who will also be the interpreter of Shylock during the tour.
In about 2 hours of walk through some of the most interesting places in Venice, you will be accompanied by Shylock and a tour leader italian and english speaking.
When? Every Friday in July (the 10th, 17th, 24th, 31st). A repeat performance is scheduled on the 28th of August at 5.30 pm in Italian and English. In the morning at 10.30 am in English only. 
How much?  € 30,oo per person
How to book? You can write an email to info@on-view.com or call 338 6144512 to confirm your participation.
In order to proceed, please, send us a bank transfer or your credit card receipt to the above mentioned email.
Our groups will include a maximum of 10 people. We kindly ask you to download the DISVOIZE app on your mobile phone and carry your own headphones in order to better hear the whole explanation.
What's essential too, please, bring your own mask. We kindly ask you to wear it and keep the social distance during the whole walking tour.We're available to accept bookings until the previous Wednesday, 6 pm. We reserve the right to cancel the tour if the minimum number of participants is not reached.Let's see in Campo San Giacometto (Rialto). There we'll easily move towards the Venetian Ghetto.
Final advice? Arrive a few minutes earlier, so we can leave on time!!!