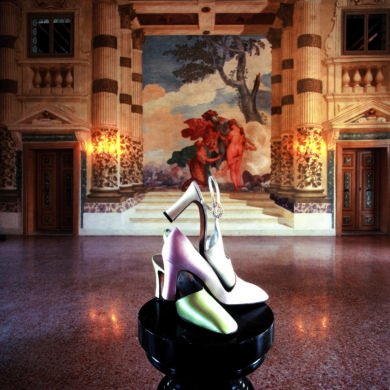 Villa Foscarini Rossi: The Shoe Museum
Info
Via Doge Pisani, 1/2
30039 Stra - Venezia
tel: + 39 049 9801091
fax: + 39 049 9801589
e-mail: infomuseo@villafoscarini.it

Web Site
Villa Foscarini Rossi: The Shoe Museum
The Shoe Museum was opened in 1995. It was founded by Luigino Rossi, a footwear entrepreneur. He bought the Foscarini estate, with its historical seventeenth century residence by the Brenta River, to house his company's museum. The structure, where the Foscarini were used to spend the summer time as in vogue among the Venetian nobles during that age, is composed by three buildings: the Main Villa, the Foresteria and the Ancient Stables, all settled in a Garden of around 10.000 mq.
The Museum displays over 1500 examples of luxury women's shoes, dating from 1947 to the present day. The models were designed and produced by Rossimoda for the most prestigious international designers. A precious collection of nineteenth century Venetian footwear is also on show. The exhibition traces the progress of the company over the years, testifying to the local skills and knowledge of the Riviera del Brenta shoemaking district.
The district is specialized in the production of high quality and luxury shoes, especially female shoes, for many of the prestigious "labels" in international fashion. The origins of this craft are particularly ancient : the presence of the Scuola dei Calegheri Veneziani, a guild specialized in the manufacture of very refined footwear for Venetians patricians, is documented since 1268.