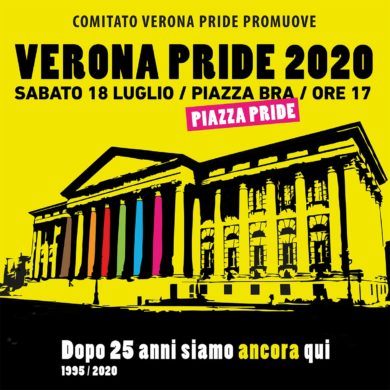 VERONA PRIDE 2020: SATURDAY 18 JULY – PIAZZA BRA
VERONA PRIDE 2020: SATURDAY 18 JULY – PIAZZA BRA
AFTER 25 YEARS WE ARE STILL HERE!
The VERONA PRIDE COMMITTEE has decided to promote a PRIDE Event again this year. Not a parade, in respect of the Corona Virus emergency, but a "PRIDE SQUARE," right in PIAZZA BRA, from 5.00 p.m. onwards.
"Piazza Pride" in Piazza Bra will remember all the victims of homo-lesbian-bi-transphobia; and the latest in chronological order was Egyptian activist Sarah Hegazi who committed suicide a few weeks ago in Canada. It's important to  be in Piazza Bra also for her.
The motions of 1995, were never forgotten and this meant that the VERONA PRIDE COMMITTEE became and then continued to be aware of the own strength and determination: AFTER 25 YEARS, WE ARE STILL HERE!
***Corona virus security regulations will be respected during the initiative. Don't forgot to have the mask with you.***