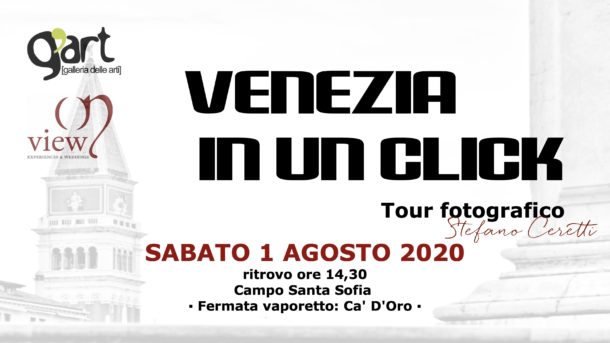 Venice Photo Shooting – Saturday 1st August
INFO:
Invia una mail a gartvenice@gmail.com oppure info@on-view.com
Contattaci via whatsapp o telefona al 333 2603551 (Anna) oppure al 338 6144512 (Ornella)
Venice Photo Shooting – Saturday 1st August
We've got a taste for walks in this unusual Venice… This time it's STEFANO CERETTI – our photographer par excellence – who is going to guide you around "calli" and "campielli" to see the city through the lens of your cameras and smartphones.
Are you a last-minute photographer? An experienced professional?An enthusiastic amateur or even a fast-clicking influencer?? You are welcome!
Meeting Point
Saturday 1 August  at 2.30 p.m. in  Campo Santa Sofia (Cannaregio, boat stop Ca' D'Oro)
Program
4 Hrs – Departure at 3.00 p.m. (till 7.00 p.m.).  Fondamenta della Misericordia and Campo dei Mori; Fondamenta Nove and North Lagoon. Gondola traghetto to Rialto and then direction St. Mark.
2Hrs – Taste and tour second part: from 7.00 p.m. till 9.00 p.m. ( from Giardini Reali in St. Mark to a Riva degli Schiavoni and Arsenale)
Cost
€ 65 per person – 6 hrs tour including the food & wine tasting
or € 45 a persona – 4 hrs tour from 3.00 p.m. till 7.00 p.m.
An initiative by G'art (gallery of the arts) with ON VIEW Experiences & Weddings by Ornella Naccriè
Booking
gartvenice@gmail.com or  info@on-view.com
+39 333 2603551 or +39 338 6144512
Payment
G'art [galleria delle arti]
IBAN: IT-79-L-07601-02000-001045949862
UPT Venezia 5
www.gartdellearti.com
https://www.facebook.com/onviewexperiences/
http://stefanoceretti.com/770.html