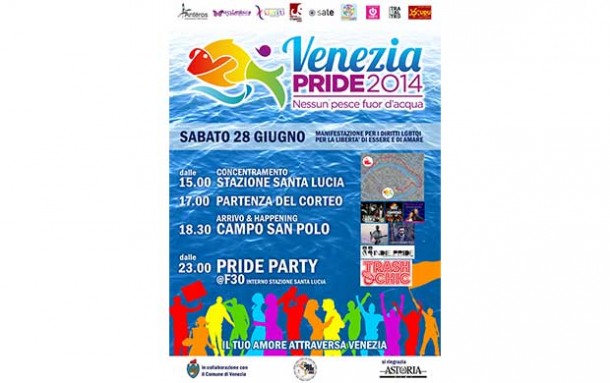 Venezia Pride 2014
Saturday, June 28th will take place in Venice the Venice Pride Event 2014 for LGBTQI rights.
The parade will start from the Railway Station Santa Lucia at 05.00 pm but the meeting is already at 03.00 pm in the square in front of the train station. The parade will cross the historic center of Venice: Lista di Spagna, Strada Nova and Rialto. The arrival will be in Campo San Polo, where at 06.30 pm after the Tango queer Show, there will be the final happenings led by Sebastian Fox Ridolfi and Juliet Ilaria Malagutti of RomeoInLove.it, with the IndiePride Artists, UNA (Marzia Stano) and the DJ Goodblesscomputers and the LGBTQIE Choir Canone Inverso.
The big final party will take place in Mestre: from 11.00 pm and for the whole night, at the "Estate Village" at Parco San Giuliano, entertainment by the wonderful staff of "Trash&Chic + Chemical X". Music, fun, show!
Free shuttle from Piazzale Roma to Parco S. Giuliano.