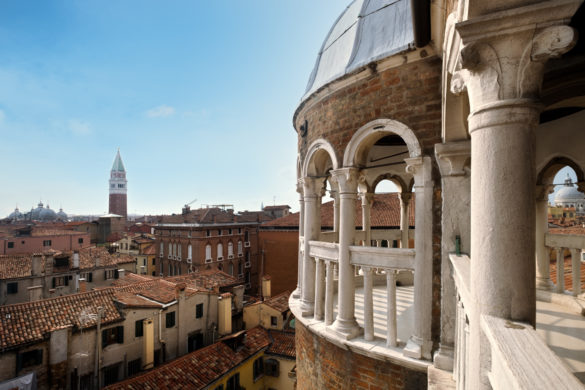 Scala Contarini del Bovolo
Info
Palazzo Contarini del Bovolo
San Marco, 4303 - Venezia
tel: +39 041 3096605
e-mail: cultura@fondazioneveneziaservizi.it
Web Site
Scala Contarini del Bovolo
The spiral staircase most impressive and valuable in Venice is a perfect synthesis of different styles: Renaissance (for the use of some elements such as the capitals), Gothic (for the construction technique) and Venetian-Byzantine (for the form). Hidden in a maze of streets and canals, very close to Campo Manin, along one of the main tourist routes in Venice not far from Rialto Bridge.
It was commissioned by Pietro Contarini probably around the end of 1400 in order to decorate the facade of the adjacent Palace of San Paternian owned by the Venetian family. The realization of this work, in fact, did not have at first a functional purpose, but consisted mainly of an act of prestige and aimed mainly to a further growth in the popularity of the family.
The creation of the scale had such a wide appeal that have led citizens to choose a nickname for that branch of the family for which, since that time has been used the nickname Contarini del Bovolo (referring to the particular shape of the staircase "to snail shell" which in Venetian is said precisely "bovolo").
Connected to the Scala del Bovolo there is the "Room of Tintoretto": an exhibition space of great value custodian of one of the preparatory sketches of the Paradise of Palazzo Ducale – an extraordinary work of Tintoretto.
Scala Contarini del Bovolo is part of the network of "Gioielli Nascosti di Venezia" with other four exclusive venues: Oratorio dei Crociferi, Complesso dell'Ospedaletto, Church of Zitelle, Church of Penitenti. https://www.youtube.com/watch?v=Z_Nf529Dx0s
Daily open from 10.00  a.m to  6.00 p.m.
Closing dates: 1st January, 15th August, 1° November, 25th and 26th December
Ticket Office closes 30 minutes before the closing time.
Price
7,oo€ Full Price; 6,oo€ Concessions: Under 26, Over 65, FAI members
Free Admission: Children up to 12 years-old, Touristic Guides Authorized of Venice, Residents in Venice municipality- with a valid I.D. Card.