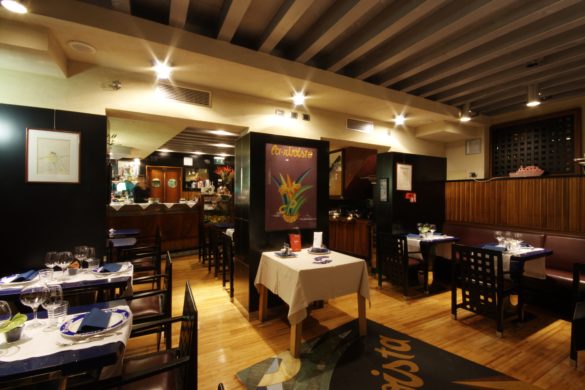 "LA RIVISTA" RESTAURANT BAR
INFO:
Dorsoduro, 979/a
30123 Venezia
Tel +39 041 2401425
Fax +39 041 2771061
info@restaurantlarivista.com

Web Site
"LA RIVISTA" RESTAURANT BAR
The design Restaurant Bar, "La Rivista" takes its name from an original flower design of 1925 of the Futuristic painter Fortunato Depero, which together with other designs of the same artist decorate the space. They come from the private collection of the Serandrei brothers, owners of the Ca' Pisani in addition to the Hotel Saturnia & International. They are the inspirers for the entire project, as a result of their passion for the artistic forms of the Futuristic period. "The Rivista" is an extravagant café, opening out to the exterior, with an entrance that is highlighted by a large polychrome marble composition inspired by futuristic themes. Here the bamboo of the flooring, the leather sofas in amaranth, the blue star-light material and walnut woods predominate.
The menu offers a wide choice of excellent wines, venetian dishes, delicatessen specialties, pasta, salads, and desserts.
"La Rivista Restaurant Bar" is open every day from 12:00 to 22.30 except on Mondays.
The "Altana"  (the typical wooden terrace on the rooftop on of menu Venetian buildings) which offers one of the most extraordinary view of the city, make unique a special evening with friends, a special moment or a special event turning your time into an unforgettable experience!