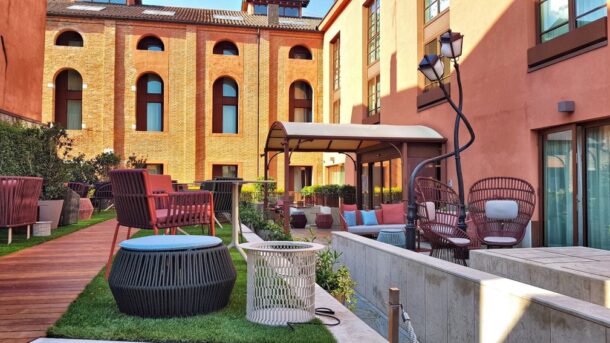 Hyatt Centric Murano Venice Hotel
INFO:
Riva Longa 49, 30141, Murano, Venice, Italy
Tel: +39 (0)41 273 1234 | Fax: +39 (0)41 273 1235
info.centricmurano@hyatt.com


Web Site
Hyatt Centric Murano Venice Hotel
Set in the heart of Murano and surrounded by the calm waters of the Lagoon, the hotel is your peaceful oasis from which to base your exploration of Venice and its hidden gems. Stay at Hyatt Centric Murano Venice and get the best of two worlds: the eternal beauty of Venice and the tranquil atmosphere of Murano. Get off the plane, don't wait longer and step aboard the hotel complimentary water taxi and reach the hotel in just 20 minutes. Collect your room key, settle in and feel the thrill of staying amidst the walls of an ancient furnace where the essential and amazing beauty of the world-renowned creations and masterpieces accompanies you throughout the various common areas and all the way into the guestrooms. Each of the 119 guestrooms at Hyatt Centric Murano Venice is sophisticated, stylishly appointed and strictly linked to the local handmade glass-making art. Elevate your stay with a suite: choose the Murano Suite with a lovely living area, two bathrooms, a walk-in closet and a breathtaking view of the Canal Grande of Murano. Start your day with an espresso at our waterfront Rivalonga Bar + Lounge, relax and unwind by sipping a pre-dinner signature cocktail at Spritz & Fizz and end your day with a Very Venetian culinary experience at Osteriva Restaurant.