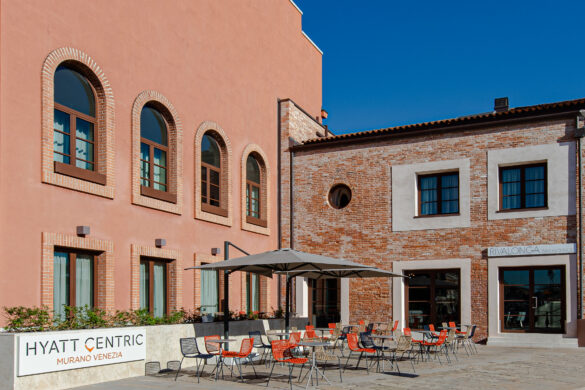 Hyatt Centric Murano Venice ResturantS & Bar
INFO:
Riva Longa 49, 30141, Murano, Venice, Italy
Tel: +39 (0)41 273 1234 | Fax: +39 (0)41 273 1235
info.centricmurano@hyatt.com


Web Site
Hyatt Centric Murano Venice ResturantS & Bar
OSTERIVA
Set in a stylish bioclimatic greenhouse inspired to the serenity and the delicacy of the colors of the Lagoon, Osteriva is the place to enjoy a relaxed, Very Venetian dining experience away from the crowds. The Venetian cuisine is the undisputed protagonist for the creation of succulent dishes paired with exquisite regional wines.
Overlooking the Canal Grande of Murano, Rivalonga Bar + Lounge brings together Italian must-have dishes and regional specialties. Besides a cosy indoor seating area, it offers an outdoor patio where to soak up the sun with a cichèto and a Spritz as well as a lounge, tucked away in a tranquil urban garden, for refreshing cocktails and savoury bites.
SPRITZ & FIZZ… The effervescent bubbles of the region's iconic drinks – the Spritz and the Prosecco – inspire the name Spritz & Fizz. The ambience of blue shades make this stylish cocktail bar call to mind the restful atmosphere of the sea whereas an ample, wooden, sharing table is the perfect setting for socialising, chatting with friends or for joining a Masterclass to explore the culture of fine drinking. Open in the afternoon, it offers craft cocktails, premium spirits, fine wines and beers.