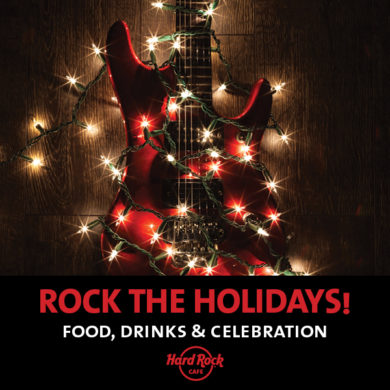 Hard Rock Cafe: Festive Menu from Nov. 26th to Jan. 6th 2019
Info
Bacino Orseolo, Venezia
Tel: +39 041 5229665
venice.salescoordinator2@hardrock.com
Hard Rock Cafe: Festive Menu from Nov. 26th to Jan. 6th 2019
Party your Christmas oat the  Hard Rock Cafe Venice!
2 Course Menu (main course and dessert)  Euro 30,oo per person- 3 Course Menu 3 portate Euro 35,oo per person.
Appetizer – Choice of: Spring Rolls and Lil Wings.
Main Course: choice of Original Legendary Burger – Norwegian Grilled Salmon – Hickory-smoked Barbecue Combo –  Herbs Grilled Chicken  –  Black Bean & Quinoa Burger.
Dessert – Choice of: Festive Brownie, Christmas Pudding Cheesecake, Chef's Favourite:  Panettone or Pandoro.
Drinks included: 1 soda (choice of Pepsi, Pepsi Max, 7UP, Schweppes orange) or 1 draft beer Nastro Azzurro 12 oz.
Contact: venice.salescoordinator2@hardrock.com – Tel.: +39 041 5229665