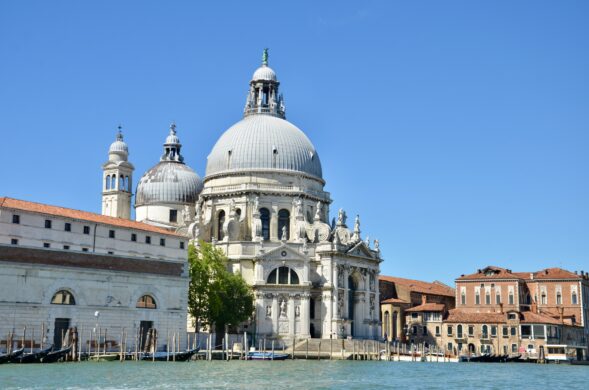 Discover Dorsoduro: Art, History and an unique artisan Atelier
INFO:
Ornella Naccari
ON VIEW Experiences & Weddings
tel.: + 39 338 6144512
Discover Dorsoduro: Art, History and an unique artisan Atelier
At 9.00 meeting at St. Mark – Vallaresso boat station, near the famous Harry's Bar and ferry to the opposite side of the beginning of Grand Canal. Santa Maria della Salute Church (the Church of the Virgin Mary of Good Health) or simply as a venetian say " La Salute". A majestic and compact 17th-century baroque jewel proudly reign at this commercially and aesthetically important point, where the Grand Canal empties into San Marco basin. In 1631, Venice had just survived yet another plague (which 46,ooo Venetian dead) thanks to the divine intervention of the Virgin Mary of Good Health (La Salute). Just outside on the right an amazing example of urban requalification of an ancient building – the Francois Pinault Foundation's Punta della Dogana a XV century building which was left entirely intact with interior spaces re-designed by famous Japanese architect Tadao Ando. Walking until the old dogana (custom house) at the tip of Dorsoduro and almost directly in front of San Marco. Then, after the Gran Canal corner, walking together direction Zattere, we can enjoy a wonderful view of the Giudecca Island: Zitelle Church, Tre Oci, Redentore until the Santo Spirito Church when we will find a private Venetian artisan studio where an exceptional selection of accessories and jewelry from sophisticated and original materials are displayed.
It would be possible to visit the Peggy Guggenheim Collection but for now, on Thursdays and on Fridays only, from 10.a.m. to 6 p.m
And after all the art and culture and fascinating local architecture, there is always time for to treat the palate too. In the Fondamenta delle Zattere for a the Gianduiotto da Nico (a Venetian ice cream smothered in whipped cream) or taste a good wine and sample the delicious "cicheti" (venetian finger food) at the historical Cantina Schiavi near San Trovaso.
For information and reservations contct ON VIEW Experiences & Weddings (Ornella) – Tel. + 39 338 6144512.