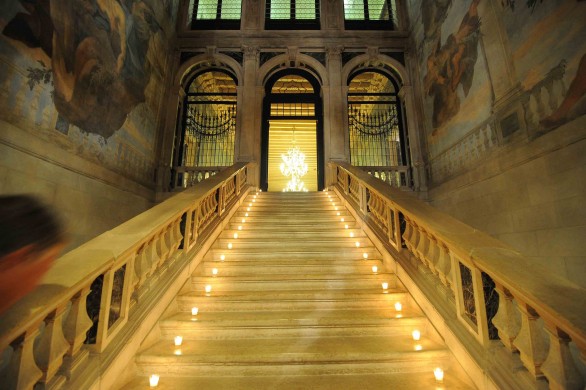 CA' SAGREDO PALACE

INFO:
Campo Santa Sofia, 4198/99 Ca' d'Oro 30121 Venezia
Tel: +39 041 241 3111
Fax: +39 041 241 3521
e-mail: info@casagredohotel.com
Web Site
CA' SAGREDO PALACE
Leaning majestically on the banks of the Grand Canal, looking directly across the water at the Rialto Market and located between Ca' D'Oro and the Rialto Bridge, the 14th century Palazzo preserves the untouched beauty of an ancient noble residence in its 42 bedrooms and suites which preserve signs of a glorious past and superb masterpieces by important 17th and 18th century Venetian artists.
A step into Ca' Sagredo Hotel, home of one of the most important Venetian family, is a step into the past, the history and the costumes of the ancient city of Venice. Half hotel, half museum, the palace is enriched by exquisite and surprising artworks in every corner: the restoration carefully enhances the original noble features, delighting while evoking an extraordinary history. Details are emphasized by a rare preciousness and elegance. Besides the artistic heritage of the Palace, Ca' Sagredo will also allow you to indulge your passion for Venice and your love for the best italian cuisine.