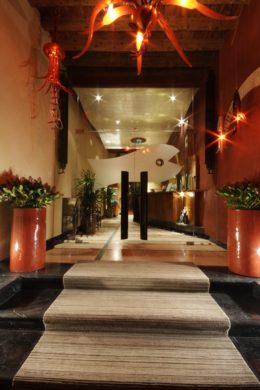 CA' PISANI DESIGN HOTEL
INFO:
Dorsoduro, 979/a
30123 Venezia
Tel +39 041 2401411
Fax +39 041 2771061
info@capisanihotel.it

Web Site
CA' PISANI DESIGN HOTEL
Situated just across the Accademia bridge, it's in a quiet part of town a stone's throw from the Gran Canal and the Peggy Guggenheim Foundation. Piazza San Marco is also a short stroll away.
Most importantly, particularly in the summer months, Ca' Pisani is just far enough off the beaten track to avoid the aimless mobs of day tourists
Ca' Pisani Molfetta is a typical small palace of the Venetian nobility of the late 1300's, modified at the end of the 16th century, the period in which the façade with its "piano nobile" (noble floor) balcony was built. The present restorations are the work of Architect Roberto L. Canovaro, who has recuperated the original architectural volumes and the characteristic elements of the ancient building, transforming it into a 30 room hotel and re-interpreting its interiors, in art-deco style in a contemporary key note. As a whole, the style is inspired by the avant-guard trends which blossomed in the period between the two Wars. The lobby recalls the essential forms of Futurism, with a wealth of marble and walnut wood; the walls of the rooms are geometrically articulated by painting treatments that bring to mind the graphics of Mondrian, in soft tones like pastel mustard yellow, terracotta, orange, beige and gray. Eye catchers in the rooms, are elements in silver and amaranth, leather armchairs, expressly designed wardrobes and "supporting furniture", and beds from the period 1930 and 1940, all original pieces, each one different from the next, and all patiently collected from all over Italy.
Among the 29 rooms, 2 are studio, and 4 are junior suites. Two studios are available with loft sleeping areas. In the penthouse there are three bizarre rooms, with exceptionally beautiful views, and a Turkish bath available for the use by guests, a feature which the grand Venetian homes had, called "stua" (stove). Here one will also find the roof- terrace solarium, which opens out over the rooftops of Venice.
The rooms are equipped with the most up-to-date technology: remote control door opening with transponder key, room darkening by electric curtains, direct telephone, satellite TV, mini-bar, room safe, personal computer hook-up, ISDN lines, sprinklers and smoke detectors. A fax machine is available upon request. The bathrooms are in an innovative material called "starlight" which creates the effect of small shining stars; and they are equipped with hydro-systems, hair-driers and towel warmers.
The Hotel has a wine & cheese bar, which takes its name "La Rivista" from an original flower design of 1925 of the Futuristic painter Fortunato Depero, which together with other designs of the same artist decorate the space.