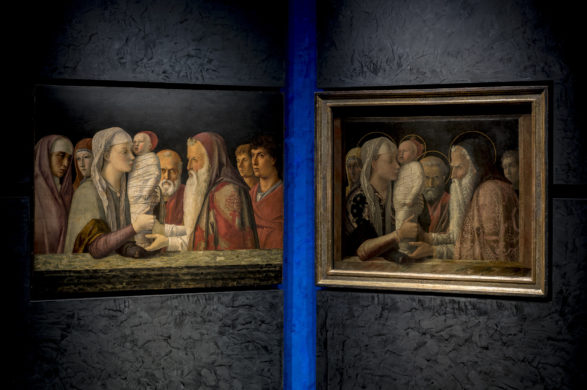 BELLINI / MANTEGNA – Two Masterpieces Compared. 21 March – 1 July 2018
BELLINI / MANTEGNA – Two Masterpieces Compared. 21 March – 1 July 2018
The two Presentation at the Temple works hanging side by side in this elegant exhibition at the Fondazione Querini Stampalia in Venice. These are two absolute masterpieces in the history of art: one by the venetian Giovanni Bellini, the other by Andrea Mantegna from Padua.
Exhibition curated by Brigit Blass-Simmen, Neville Rowley, Giovanni Carlo Federico Villa.
That this was a competition at the highest level, is perhaps a unique opportunity for us to admire them side by side for the first time in the history of art.
Marigusta Lazzari, the director of the Querini Stampalia, states: "It is the result of one of those alchemies that happen every now and then in history. In our case, the impossible has become possible after our complex negotiations came to a happy conclusion, leading us to loan our Bellini for the major Andrea Mantegna and Giovanni Bellini exhibition, which opens at the National Gallery in London on 1 October 2018 before transferring to the Gemäldegalerie in Berlin on 1 March 2019. The comparison between the two Presentation at the Temple paintings is one of the cardinal points of these exhibitions. The Berlin institute has reciprocated our loan with one of its own and thus we are thrilled to finally present the two masterpieces side by side at the Querini to an Italian and international public before the London exhibition."
The Querini Stampalia has called on the services of architect Mario Botta for the exhibition installation and he is mounting an innovative lighting system.
Visitors will also be invited to discover – or rediscover – the infinite treasures of the Querini Stampalia, one of the most important house-museums in the world, all with the same entrance ticket. The ancient collections containing precious furniture, paintings, porcelains, globes, fabrics and sculptures.